THIS WEBSITE IS NO LONGER UPDATED PLEASE GO TO www.daveferra.co.uk
"excellent delta bluesman" - Blues in Britain

New CD "Ain't no hand me down" is available now and has received significant airplay by independent blues broadcasters.
"a wonderful acoustic album….oozing quality and style"– Blues in the South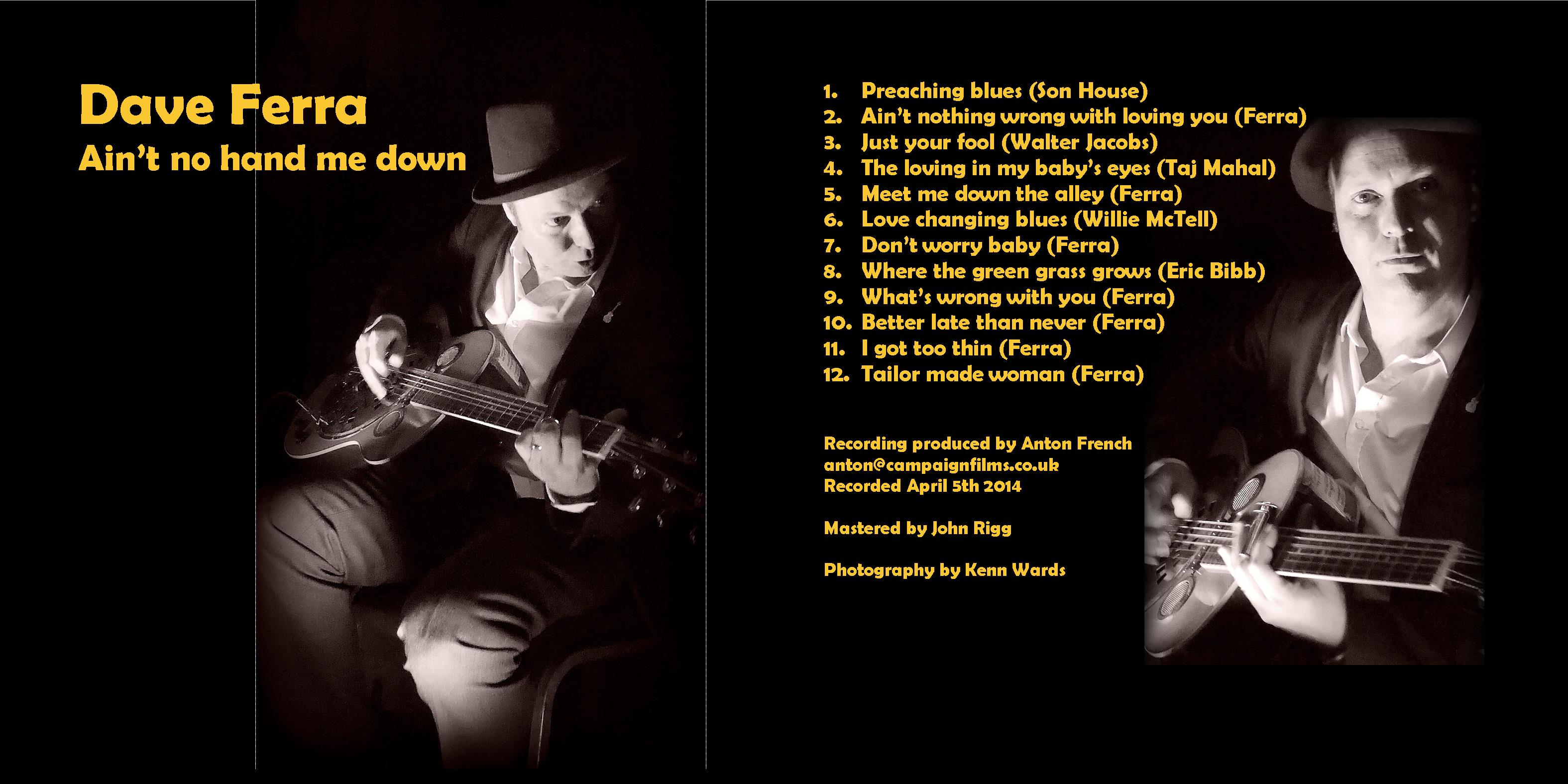 Blues, Spirituals and ragtimes with guitar, slide and rack harmonica. Playing in England and the Continent he has supported The Blues Band, Kirk Fletcher, Paul Lamb, Jo Harmon, Babajack, Nine Below Zero, Billy Walton and The Spikedrivers amongst others and is a regular at London's Ain't nothin but the Blues Bar.

"excellent delta bluesman" – Blues in Britain
"great guitar and spot on for style" – Blues in Britain
"such a brilliant voice, guitar and harp – the man got it all!" – Katie Bradley
"Fabulous night; Best this year. Dave had a fantastic rapport with the audience and the whole group transmitted a convivial atmosphere. Well done and thanks for bringing them to Deal – Phil Healey (Audience member at Spooner's Blues Club)
"The Thirty-Nine Steps was privileged to host a superb and highly versatile musician. His command particularly of the ragtime and spiritualist genre, leads to a holistic, motivating and highly enjoyable set. Dave's easy-going style and undoubted matter-of-fact talent allows him to easily involve the audience, culminating, not surprisingly, in a joint rendition of 'Swing Low Sweet Chariot'." – Andrew Pook
Review of Ain't no hand me down by Iain Patience, Blues in the South
First things first; this is a wonderful acoustic album. Ferra's second outing, following the critically acclaimed debut 'Bad Luck Blues', 'Ain't No Hand Me Down' again features slippery slide work, hairy Harp and vibrant vocals in a 12-track CD of about half and half self-written material and great covers. From the opening track, Son House's old 'Preaching Blues' through a dash of Taj Mahal ('The Loving In My Baby's Eyes') to Eric Bibb's evergreen, 'Where The Green Grass Grows', this album flows effortlessly with several of Ferra's own interspersed compositions oozing quality and style with a strongly rhythmic ragtimey feel throughout. Ferra's own 'Meet Me Down The Alley' and 'Tailor Made Woman' both stand out as well-honed, skillful songs classily and clearly capturing the essence of the ragtime era. This is a trick few can pull-off with clarity - Roy Book Binder, springs to mind. Ferra's barely half his age but already seems to have the knack. Positively recommended. I, for one, already look forward to this guy's next offering.
Tue 2nd June -
Ain't Nothin but the Blues, Soho, London, 6-30pm (Dave Ferra solo)
Sat 6th June - Borough Wines, Deal, 7-9pm (Dave Ferra solo)
Wed 10th June -
The Library, Islington, 9pm (Dave Ferra solo)
Fri 12 June - Share and Coulter Festival, 6-7pm (Porch Swing Blues)
Fri 19 June - The Louis Armstrong, Dover, 9pm (Dave Ferra Allstars)
Thu 26 June - Chambers, Folkestone, 8pm (Dave Acari support by Dave Ferra)
Fri 26 June - The Tartar Frigate, Broadstairs, 9pm (Porch Swing Blues)
Sat 27 June - The Anchor, Sevenoaks Summer Festival, 2pm (Dave Ferra and Katie Bradley)
Fri 3rd July - The Lighthouse, Deal, 9pm (The Dave Ferra Allstars)
Sun 5th July - Red Lion, St Peters, Broadstairs, 2pm (Porch Swing Blues)
Fri 10th July - Brownstock Festival, The Slippery Saddle Saloon, Chelmsford, 6pm (Dave Ferra)
Sat 11 July - Borough Wines, Deal, 7pm (Dave Ferra solo)
Wed 15th July -
Ain't Nothin but the Blues, Soho, London, 6-30pm (Dave Ferra solo)
Thu 16th July - The Golden Eagle, Derby. (Dave Ferra and Carla Burchill)
Fri 17th July - The King William, Milford, Derbyshire. (Dave Ferra and Carla Burchill)
Sat 18th July - The Peacock, Derby. (Dave Ferra and Carla Burchill)
Fri 24 July - White Cliffs Blues Festival, Coldred, Nr Dover, 7pm (Dave Ferra Allstars)